History of Cusgarne House
Cusgarne House is Grade II* listed. The house is said to date from the seventeenth century, although it has been suggested that some of the rooms and passageways may originate from an earlier period.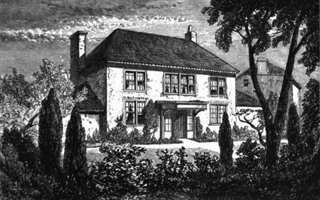 From 1781 to 1800 Cusgarne House was home to James Watt and his family. He was in business with Matthew Boulton, who together with his family, also spent considerable time in the house. Watt's work on the technology of the steam engine was of vital importance to the Cornish mining industry where engines were used to pump water out of tin and copper mines using costly imported coal. Watt developed a separate condenser which radically improved the steam engines' power and efficiency and consequently its cost effectiveness. Quoting from the Cornish Mining World Heritage Site:
'He (Watt) will always be remembered as a great man without whom, industrialisation may well have happened at a much slower pace.'
Samuel Smiles in his 'Lives of Boulton and Watt' (1866) describes their families in search of a home in Cornwall and settling upon: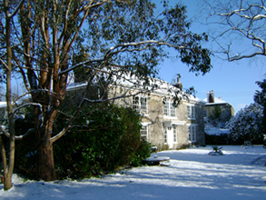 'an old-fashioned, roomy mansion, with a good-sized garden full of fruit trees, prettily situated at Cosgarne, in the Gwennap valley. Though the United Mines district was close at hand, and fourteen of Boulton and Watt's engines were at work in the immediate neighbourhood, not an engine chimney was to be seen from the house...'
Boulton and Watt used the house as a base from which to advance their business interests in Cornwall. They both left in 1800 and our family moved into the house in 1801, and subsequent generations have lived here since that date. We believe we know in which room 'the great men' worked as this is a story which has been passed down through the generations.
Visitors to the house are also believed to have included John Wesley, the founder of Methodism and, more recently, the novelist Winston Graham, author of the Poldark series, which was adapted for TV in the 1970s. Winston Graham's fictional character, the beautiful Elizabeth Chynoweth was brought up in an old house in Cusgarne.
Guests have found that this is a place to relax and unwind, a place where you can "hear the silence". Our aim is to create that same atmosphere of peace and tranquillity in an attractive rural environment where we have introduced all the amenities of today into beautifully restored buildings.