Grounds
Cusgarne is a small, quiet and attractive, south-facing village tucked away at the foot of Cusgarne Hill. Traditionally a farming community, Cusgarne is surrounded by farmland and has an excellent organic farm shop.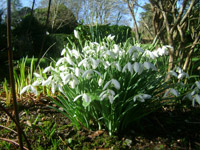 Church Close Cottage and The Threshing Barn are set in secluded corners of the grounds. Both have a private patio area with barbeque and seating. There is an elevated area of grass between the barn and the cottage where guests can enjoy views to the south and west across farmland.
The grounds are terraced and have been landscaped with areas of grass, wild flowers, shrubs and gravelled pathways. There are elders and sycamores along the stone hedging and a number of old elm trees which stand between the barn and cottage. There is also a hawthorn in the middle of the grounds which gives a stunning show of May blossom.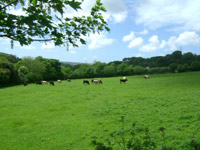 The Bullpen has a table tennis table and in the lower section a 'gnu' drier for drying wet clothes, both for the use of our guests.
A private path leads to a walk by the stream in the valley below.
There is parking on the far side of the Bullpen so that the area around the barn and the cottage will be for pedestrians only adding to the safety and seclusion of the site.