History of Cusgarne Cottages
Cusgarne Cottages are in a small group of 19th century agricultural buildings of historical importance, set in a quiet, enclosed, separate area to the south-west of our family home, Cusgarne House.
Until some 50 years ago this was a busy farmyard serving initially the family's milling business and latterly as the hub of a growing and diversifying farm. However, from the late 1960s/early 1970s the farmyard and the buildings ceased to be used and the whole area became overgrown. As the years went by the buildings became very dilapidated and covered in ivy. The buildings are tucked away and in a secluded position so that some local people have said that they did not even know they existed.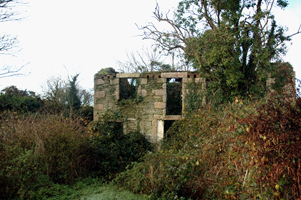 The Threshing Barn is believed to date from 1820 and has served a number of functions over the years. A member of the family remembers a traction engine positioned outside to power the threshing machine in the 1940s, and the wheel used, set in the wall, is still in place and to be seen on the first floor. The barn also housed the 'house cow' at one time and more recently has been a milking parlour, then a piggery and a potato store.
The two storey section of Church Close was a dwelling in the nineteenth century and a descendant of the occupier made a nostalgic visit from their home in the USA some years ago. It is thought that the single storey part of the building is about a hundred years old and it was constructed to house 'small calves'.
A third building, the Garage and Bullpen used to house the farm's bull and a ring for the chain is still to be seen set into the wall. This building has also been renovated and will provide a covered parking area together with enclosed storage for our guests' bikes, canoes, kayaks, surfboards and any other leisure equipment they may wish to bring.
The buildings are within the "curtilage" of the listed house and their restoration required listed building consent. The conservation officers were keen to see these fascinating buildings restored and were encouraging and supportive throughout the planning process.
The restoration of the storage building and garage was started in 2009 and largely completed at the end of that year. Work on the two residential buildings was started in late 2009 and completed in the winter of 2010. The work was carried out by an experienced building company whose clients have also included the National Trust. They employed skilled stone masons and carpenters who used traditional construction techniques.